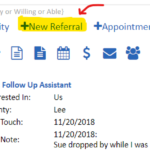 A. Recording a referral is now one click with intuitive suggestions.
Why the change? We know logging your referrals are an important element in your organization's referral strategy. To make this process easier, we've added a quick-link way to record them.
Here's where you'll see the New Referral link, in the quick links under the contacts name.
What else is new? For those organizations where you record and create a contact record for the Referred party and the Referring Party, the fields populate with the contact records you are on or where most recently on to help intuitively populate the referral fields.
For those organizations who only want to record the party who provided the referral and use a text field to record the referred party, this new functionality allows for entering a contact name that does not have a contact record, helping to record the name of the referral but not adding additional contacts to your system.
Contact support for any additional questions or instances not addressed in this upgrade.
Back To Top